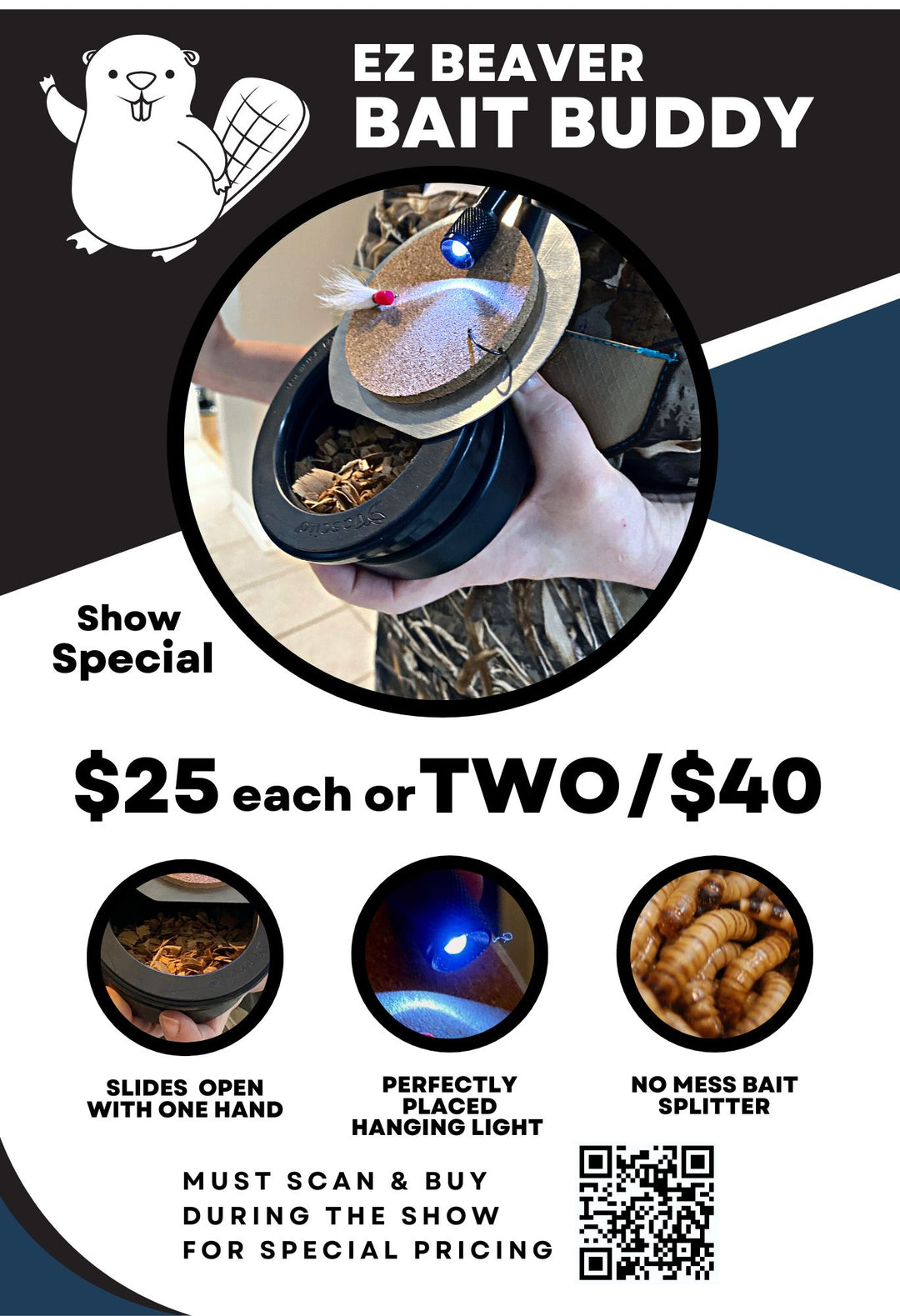 EZ Beaver Bait Buddy
The Best Bait Buddy Ever Made
Regular price
$25.00
/
Free Domestic Shipping
---
In stock, ready to ship

Inventory on the way
Built to withstand all the bumps and bangs that come with everyday use. 

Keep your waxies and worms handy and right where you want them, like never before! The EZ Beaver Bait Buddy is packed with features.

The Bait Buddy measures 4.5" wide by 4.5" deep, the perfect size to keep your bait right where you want it, but not be in the way when you are reeling that big catch in!
 We've designed this product with you in mind! It's quality built, simple to use, hassle-free, made from premium and durable materials.
Our patented design lets you get to your bait faster than ordinary screw on lids! Takes less than a second - just grab it and slide, like magic, they automatically seal every time!
Let the containers do the work for you, saving you so much time and frustration! No more spilled worm dirt all over your boat!
Fill your Bait Buddy at the store and keep the plastic off the shore!
Together, Lets reduce single use plastics
Each EZ Beaver Bait Buddy comes with:
- 16 gauge Stainless Steel plate
- 1/4" thick cork pad
- 8 Oz HPDE container in Black or White
- Patented Magnetic Rim Assembly, Black or White
- Easy to use Carabiner
- LED flashlight

Quality You Can Trust, Service You'll Love

We get it - you work hard for your money, and so do we! That's why we've poured our heart and soul into designs that can weather any storm and stand the test of time. Your satisfaction? It's not just a goal; it's our guiding star. We're committed to going the extra mile to keep your trust intact.

Crafted in Michigan, Proudly American

Our products are born in the heart of Michigan, soaked in that good ol' American spirit. They're not just made; they're meticulously crafted. Each piece gets a thorough once-over before it sets out on its journey to your doorstep.

Got Questions? We've Got Answers!

Have a question or a concern about your purchase? We're all ears! Our dedicated support team is here, ready to pull out all the stops to make things right, no matter what it takes.

We Stand By Our Products and You

We don't just stand by our products; we stand by you, our valued customers. We're not just in the business of making things; we're in the business of making a difference in your life. Your satisfaction is our priority, and we promise to keep putting you first.

We want you to keep your Vascito products working and looking amazing for years to come! These are investment items, not cheap one and done items you toss in the trash after a few uses. That's why taking care of your product is so important, and we want to help you do just that.
Each of our jars and rims are easily disassembled for simple cleaning.
They are also dishwasher safe! Just be sure to place each item on the top shelf, while using the Low heat setting.
*Please note: Please dispose of live bait properly. Any arguments caused by putting your bait buddy into the dishwasher are not our fault!

Just clip it and go! Easily hangs from your waders, belt or hooks on to your kayak or canoe!