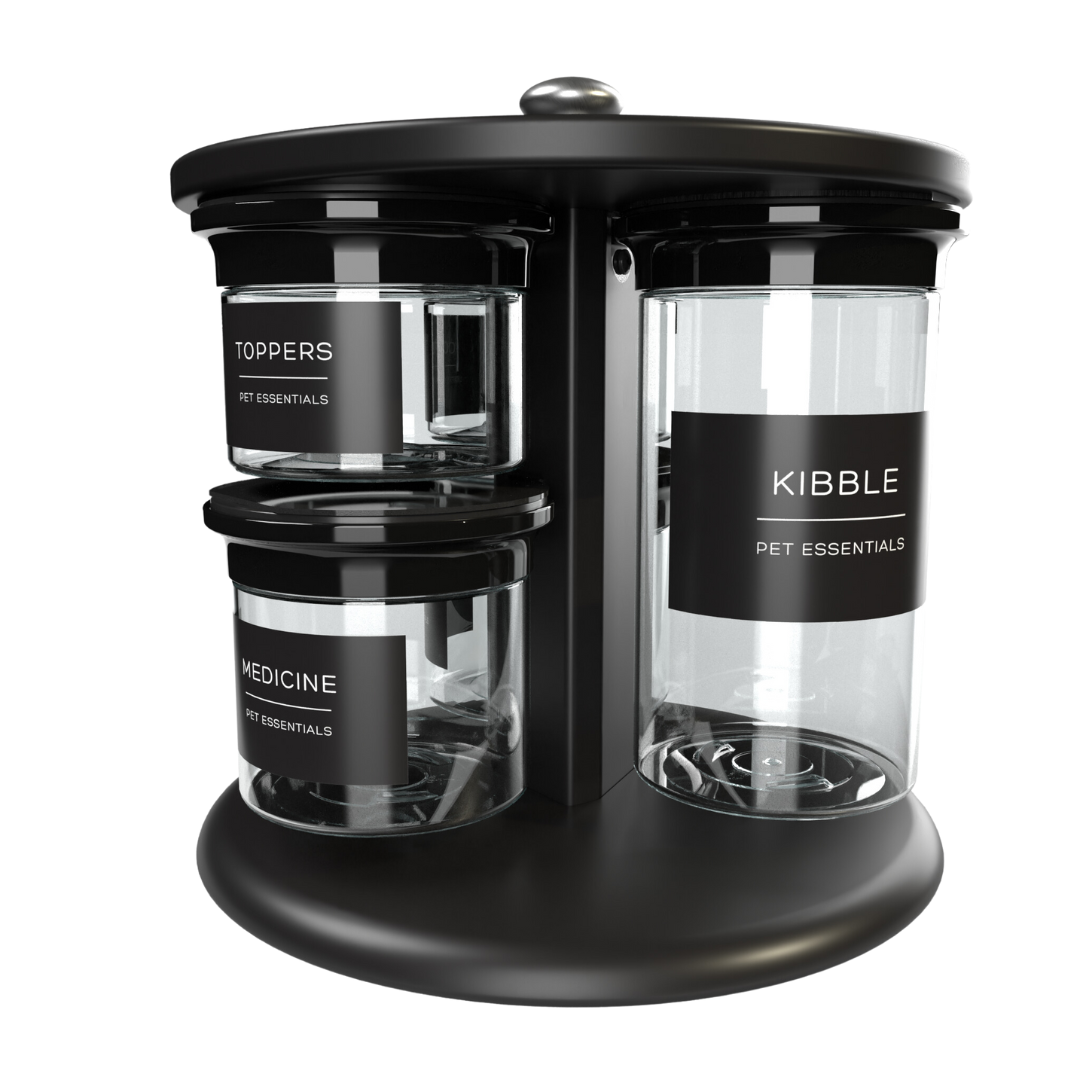 Counter top 5 Jar Rack
Free worldwide shippingThe best rack you will ever own
Regular price
$250.00
/
Free Domestic Shipping
Custom code block
Use this advanced section to add custom HTML, app scripts, or liquid.
Black or White 5 Jar Rack.  Store all you need in one organized rack! with no lids to get in your way!
Comes with
1 - 32oz jar 
2 - 16oz jars
2-12oz jars
.Our racks come with everything you need to start enjoying them right away. Fully assembled and ready to use, each rack comes with BPA free jars, powder coated metal plates and Vascito's patented magnetic rim assembly for easy, lidless, airtight seals!
Quality You Can Trust, Service You'll Love

We get it - you work hard for your money, and so do we! That's why we've poured our heart and soul into designs that can weather any storm and stand the test of time. Your satisfaction? It's not just a goal; it's our guiding star. We're committed to going the extra mile to keep your trust intact.

Crafted in Michigan, Proudly American

Our products are born in the heart of Michigan, soaked in that good ol' American spirit. They're not just made; they're meticulously crafted. Each piece gets a thorough once-over before it sets out on its journey to your doorstep.

Got Questions? We've Got Answers!

Have a question or a concern about your purchase? We're all ears! Our dedicated support team is here, ready to pull out all the stops to make things right, no matter what it takes.

We Stand By Our Products and You

We don't just stand by our products; we stand by you, our valued customers. We're not just in the business of making things; we're in the business of making a difference in your life. Your satisfaction is our priority, and we promise to keep putting you first.

Seamless Installation, No Handyman Required

When your Vascito products arrive, you can breathe easy knowing that the installation process is a breeze, accessible to anyone. You can put these efficient storage solutions to work without waiting around for a handyman.

Effortless Assembly, No Tools Required

Our innovative designs ensure that installation is a walk in the park. There's no need for any special tools or extra hardware; everything you need is included and ready to go.

We want you and your furry friend to be completely satisfied with your purchase of the Vascito Pet Organization Station. If for any reason you are not happy with your purchase, you may return the product within 30 days of the delivery date for a full refund or exchange.
To initiate a return, please follow these steps:
Contact our customer support team at [insert contact information] to request a return authorization.
Pack the product securely in its original packaging, including all accessories and documentation that came with it.
Ship the package back to us using a reliable courier service of your choice. We recommend using a service that provides tracking information for your convenience.
Once we receive the returned item and verify its condition, we will process your refund or exchange within [insert number of days] business days.
Please note the following conditions for returns:
The product must be in its original condition, undamaged, and with no signs of wear or use.
The returned item must include all original packaging, accessories, and documentation.
Shipping costs for returning the item will be the responsibility of the customer, unless the return is due to a manufacturing defect or our error.
Refunds will be issued in the original form of payment used for the purchase.
If you received the product as a gift, we can only issue the refund to the original purchaser.
We strive to provide the highest quality products and exceptional customer service. If you have any questions or concerns regarding your return, please don't hesitate to contact our customer support team. We are here to assist you and ensure your satisfaction.
Please note that this return policy applies only to purchases made directly from our official website. If you purchased the product from a third-party retailer, please refer to their return policy for further instructions.
Thank you for choosing the Vascito Pet Organization Station. We appreciate your trust in our product and look forward to assisting you with your return if necessary.
Ensuring the Longevity of Your Vascito Products

Our commitment extends beyond your initial purchase – we want your Vascito products to endure and maintain their splendor for years. Unlike disposable items, these are investments deserving of care and attention, and we're here to assist you in this endeavor.

Simplicity in Cleaning

Maintaining your Vascito jars and rims is straightforward. Each component is thoughtfully designed for easy disassembly, simplifying the cleaning process.

Dishwasher Compatibility

Good news: these products are dishwasher-safe. To preserve their pristine condition, simply place them on the top shelf and select the Low heat setting.

A Special Note: Personalized Jars

Please take note that if your jar boasts personalized vinyl lettering or labels, it's best to opt for hand washing. This ensures the longevity of these customized elements.